Marjie – Office Manager
Marjie began her career as a dental assistant, where she fell in love with the relationships she was able to form with patients. She prides herself on making everyone feel comfortable and a part of the office family. Years later, now as the Office Manager, her favorite part of her job is still creating a lasting relationship with all of our patients. She loves knowing they are maximizing their dental benefits, and understand how their insurance can give them the smile they always dreamed of.
Marjie was born in beautiful Montana and moved to Washington when she was 5 years old. Now she lives in Puyallup with her husband, Doug. Marjie enjoys spending her time in the sunshine out in her beautiful garden, or scrap-booking on a rainy Washington day. You will also find her volunteering as often as she can, giving back to her community.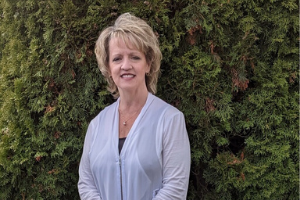 Jackie – Scheduling Coordinator
Jackie is the first person you see when you enter our office. She has always had a passion for dentistry, even as a young child and during her banking days.  She has been in dentistry for over 20 years and enjoys serving her extended dental family from her front-office position. She is compassionate about her work and strives to deliver the best possible care for each and every patient. Making the patients feel comfortable during their visit is her primary goal! 
Outside of work, Jackie enjoys time with her husband Rick, children, family, and friends. She enjoys gardening, quilting, spending time at the family cabin, playing games, and reading.
Lyuba – Dental Hygienist 
Lyuba is known for her cheerful personality, making patients instantly feel at ease with her gentle and reassuring presence. After working in dental administration for eight years, she decided to further her education in the dental field, pursuing a career in Dental Hygiene.  She graduated from the Pierce College Dental Hygiene Program in 2011. Lyuba is constantly expanding her knowledge and learning about the latest dental technology and techniques. This enables her to provide top notch care to each and every patient.
In her spare time, Lyuba enjoys exploring the outdoors, baking, and spending quality time with her husband and four children.
Radley – Dental Hygienist
Patients constantly rave about Radley's gentle touch, positive energy, and charming chair side manner.  Raised in West Seattle, Radley completed his prerequisite hygiene courses at the University of Washington Seattle campus and earned his dental hygiene degree from Shoreline's dental hygiene program in 2003.  With nearly two decades in dentistry, Radley prides himself on making even the most nervous patient feel listened to, understood, and genuinely cared for.
On his days off, you can catch Radley with his wife searching for the tastiest new restaurants, food trucks, and bakeries in the area.