Marjie – Office Coordinator
Marjie began her career as a dental assistant, where she fell in love with the relationships she was able to form with patients. She prides herself on making everyone feel comfortable and a part of the office family. Years later, now as the Office Manager, her favorite part of her job is still creating a lasting relationship with all of our patients. She loves knowing they are maximizing their dental benefits, and understand how their insurance can give them the smile they always dreamed of.
Marjie was born in beautiful Montana and moved to Washington when she was 5 years old. Now she lives in Puyallup with her husband, Doug. Marjie enjoys spending her time in the sunshine out in her beautiful garden, or scrap-booking on a rainy Washington day. You will also find her volunteering as often as she can, giving back to her community.
Amanda – Scheduling Coordinator
Amanda will be the first smile to greet you when you come into our beautiful office. She started her dental career in 2013 and makes it her mission to ensure every patient has a positive, supporting environment to have their dental care needs met. She enjoys getting to know patients and building great relationships. She will help you with all of your Scheduling and Insurance needs and will serve as a liaison between insurance carriers, staff and patients to resolve any concerns.
Amanda is a born and raised Washingtonian. She spent her early years growing up on her grandparent's apple and cherry orchard in Chelan, but then moved to Marysville, WA where her family still lives. Amanda shares her happy home in the local Tacoma 6th Ave District with her boyfriend Keith and pet miniature schnauzer, Mr. Edison (both the loves of her life). On her weekends you will her exploring the PNW hiking, running 5k's, attending the theatre at Point Ruston, relaxing and watching Netflix or reading a good book.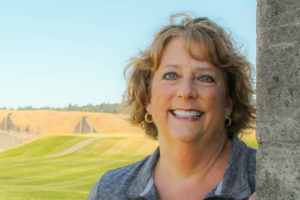 Ellen – Dental Hygienist 
After graduating from Bates Dental assisting, Ellen started assisting at a local Orthodontic office where she found a love for dental hygiene. After her three daughters were born she went back to school at Pierce college for her Dental Hygiene degree and has been helping patients achieve healthy, beautiful smiles for 26 years now! She loves caring for her patients needs, providing them with lasting healthy smile. Seeing their personality and confidence in their smile transform through great dental care is her favorite part of her job.
Ellen loves spending time with her six wonderful grandchildren. She enjoys taking in the beautiful PNW, walking at Ft. Steilacoom Park whenever she has the chance. Over the years she has been a part of many pet rescues, where she can share her love for animals.
Joy – Dental Hygienist   
Joy has been in the dental field for 22 years. She began her dental career as an assistant before pursuing her dental hygiene degree at Pierce College where she graduated with Honors. She continued her education at Eastern Washington University, receiving her Bachelors of Science in Dental Hygiene in 2013. Joy loves educating her patients about ways they can improve their dental health, and watching their lifestyle changes make a huge impact on their smile. Joy also loves working with children as a restorative hygienist teaching them at a young age to love their smiles!
Joy is a PNW native, when she is not at work she is spending time with her family enjoying the outdoors. Together they love to go camping in their awesome RV, boating, or playing with their dog Benny. During football season you will find Joy and her husband, Scott supporting their favorite teams, GO HAWKS & GO COUGS!
Connie – Dental Assistant 
Connie is a local UP gal, she graduated from Curtis (GO VIKINGS) before pursuing a career in the dental field. She has been working as a dental assistant for 26 years. She finds pride in helping patients have a beautiful, healthy smile. She loves establishing a trusting, and strong relationship with everyone who comes through our door for the best care possible. Connie makes even the most fearful person comfortable in the dental chair, leaving them confident in their smiles at the end of every appointment.
Outside of work Connie enjoys spending time with her family and friends, especially her beautiful daughter. She is an active board member for U.P. Latchkey and the before and after school care in our district. She also loves showing off her Vintage VW at car shows. You might just find her vintage bug, Vinnie here in the parking lot on a beautiful summer day.
Michelle – Dental Assistant 
Michelle has been in the dental field for 13 years, and instantly fell in love with her job. She greets every patient who comes through the door with a warm smile and makes them feel like they have finally found their "dental home". She Loves seeing patient's confidence skyrocket when they have reached the end result they hoped for at the end of their appointments. She takes pride in the amazing work she helps Dr. P accomplish, while making everyone comfortable in the dental chair.
Michelle is a proud mom of 2 boys, Chase (11) and Collin (13). Her and her husband love exploring the outdoors with their boys, fishing or out on the water having fun trying out all the different water sports out there. They love collecting different maritime items. When she isn't busy being a boy mom she enjoys gardening, quilting, and learning other sewing projects. Like every Seattleite they are big Seahawks fans and are a true 12th Man-Family. You will find her in festive hawks gear every "Blue Thursday" in our office.
Tori – Fabulous Office Helper
Tori is Dr. P and Dr. Ji's youngest daughter. She is the most stylish helper in the front office. Tori loves to help out with all the office shredding, holiday decorating, and art work. You will see her latest masterpieces on the walls throughout the Front Office. Tori loves to relax and play when the weather is nice, and enjoy her summer breaks!
Charlene – Office Manager in Training
Charlene is the big sister! She is the smartest girl her age, and puts it to good use in the office helping us file, alphabetize and so much more. She is quite the sporty athlete, she golfs and is a super good competitive swimmer. She even got Dr. P to try golfing this year! Charlene loves to get outdoors and be active, trying new sports, and hanging out with her friends.